Woman's home brow tint beauty treatment goes horribly wrong
Lockdown left many of us with a range of new home beauty treatment skills, but for one woman, it appears 'tinting eyebrows' wasn't among them.
An American woman named Casey shared her DIY tinting escapade on TikTok, documenting the moment her brows turned from light and feathery to cartoonish.
"We are going to tint the brows!" Casey tells viewers, appearing hopeful ahead of the brow blunder.
She then reads aloud the instructions on the tint packet, ignoring the prompt to use Vaseline on the skin around her brows to "prevent staining."
RELATED: Woman rips eyelashes off in crucial beauty blunder: 'This is why you NEVER rush'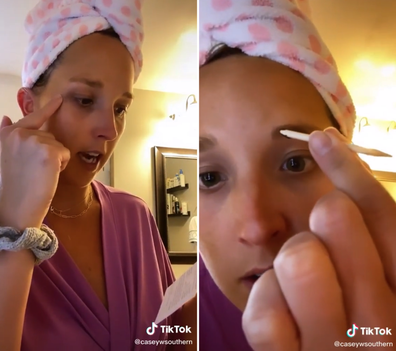 "Ya'll know I won't be doing that!" she brazenly declares.
Dabbing her brows with dye via the wooden applicator, Casey fills in the shape to achieve a fuller, darker look.
As she stands before the camera with her hair in a towel and her brow dye "developing"…