The Boy Who Blew Off The Mountain (Days 40 to 48, Tehachapi to Kennedy Meadows)
Day 40
Start: Hwy 58 / Tehachapi
End: Walker Pass / Ridgecrest
PCT Miles Hikes Today: 3.5 up, 3.5 down
Well, we're certainly starting off this new section with a bang.
I should begin by saying how much we loved our three nights in Tehachapi. Amazing town, awesome restaurants, and yesterday – our true zero day – was absolute cake. We didn't move from our bed for most of the day. Lots of bad television and reheated restaurant meals. We emerged only to run across the street for dinner and hit up Denny's. Truly a zero for the ages.
We booked a 6:30am taxi pickup to bring us back down highway 58 to the trail, and when we arrived around 6:45, the wind was howling. We hiked along the highway for about a mile, then headed up into the mountains.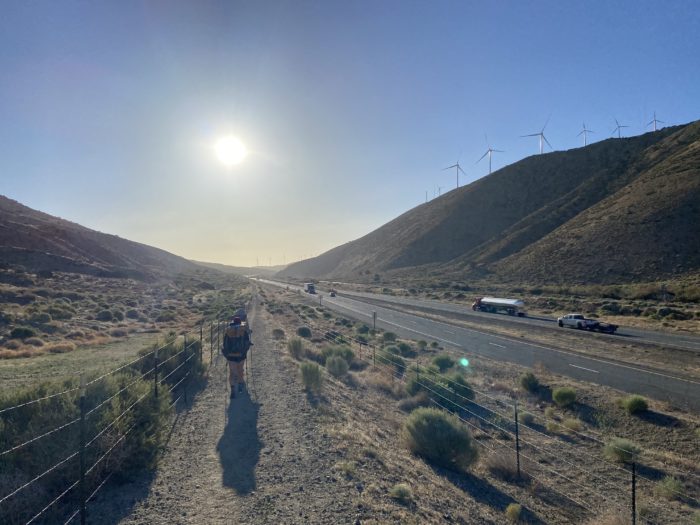 Redline, Bushwhack, and Steve booked a 7am ride to trail, so they were arriving a little behind us. Songbird cruised ahead (as always) while Mango and I dropped a little behind. As we hiked away from the highway, we passed a few backpackers heading in the wrong direction. They told us they had tried to hike up NOBO this morning but had turned around – the wind was too dangerous. We nodded politely and kept hiking.
As we reached the 3-mile mark, it began to get very difficult to turn certain switchbacks on trail. The wind was absolutely whipping, and we compensated by leaning in / stabilizing with our trekking poles, mostly successfully. Mango was leading us. Then,…