OTC Construction Management Technology Students and Habitat for Humanity Bulloch Co to Build Home in Downtown Statesboro
Ogeechee Technical College said this week that Construction Management Technology students are partnering with Habitat for Humanity of Bulloch County to build a home in downtown Statesboro.
"It has been really great to work with local partners on this building project," said Jeffry Roberson, a Construction Management Instructor at OTC. "The framing is on schedule and should be completed by the end of the spring semester and will provide ample opportunity for our students to get some hands-on experience outside the classroom."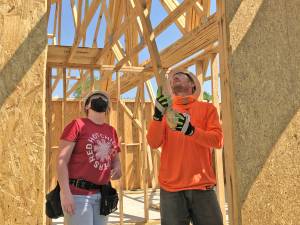 Last year before the pandemic put the project on hold, OTC students laid the foundation of the house and began framing the property. This month, students could be seen framing the walls and roof of the 4 bed, 2 bath home.
Though the current work on the house…