DIY Hair Tips: How to touch up your roots at home | Your expert guide to a successful root touch up in lockdown
If this latest lockdown has taught us anything it's that, yep, we still can't be without our regular hair appointments. As our gloss dulls, ends split, and fringes grow out it's our roots that are giving us the most grief each time we catch a glimpse of our tired mugs in the mirror, so we thought it was time to check in with an expert to see what we can do about our regrowth.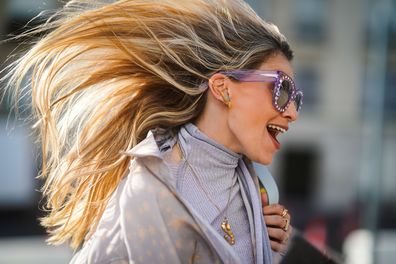 Whether your goal is to cover greys or mask your natural regrowth, hairdresser Paul Geronimo recommends first checking in with your hairdresser to see if they can create you a personalised root touch up kit. With salons forced to shutter to comply with restrictions this is a good way to support local business, first and foremost, while ensuring you get your correct hair colour match. Failing that, supermarket hair dye kits are the next best thing, but if you don't want it to look like an 'at-home' job, Paul suggests proceeding with caution.
RELATED: How to fix split ends when a trip to the hairdresser isn't an option
"It's always touch and go with packet dyes but I would recommend buying a demi-permanent. It's a colour between a permanent and semi-permanent. It will still give 50-70 per cent grey coverage without the risk of getting 'hot roots'," says Paul.
Note: 'Hot roots' is the term hairdressers use when the newly coloured hair roots turn visibly warmer than the rest of the hair. We're talking an unwanted orange, brassy shade.
"I recommend L'Oreal Paris…