How to wear a watch? Practical advice for her and for him
How to wear a watch?

Practical advice for her and for him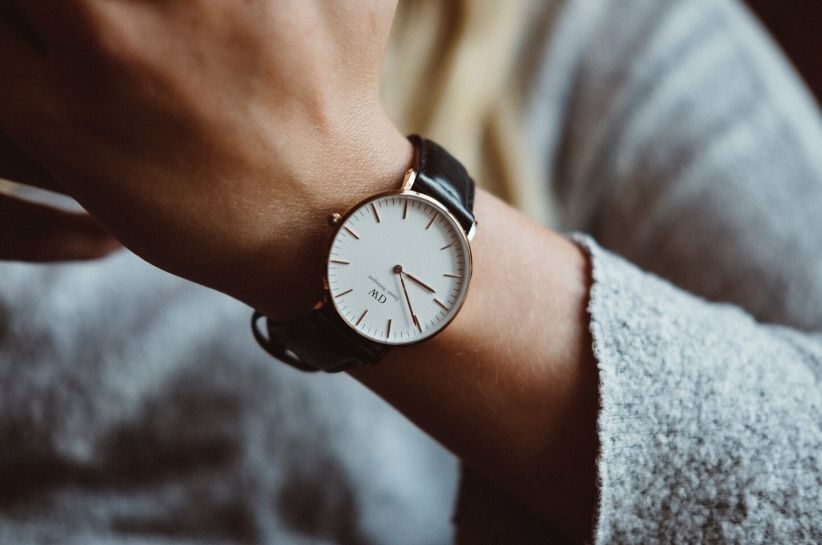 Watches are a timeless accessory that will probably never go out of style. The best proof of this is the fact that watches are still willingly bought, despite the fact that each of us has a smartphone on which we can quickly check the current time. Women's and men's watches are accessories that represent style and are a great addition to not only elegant, but also casual style. We will tell you how to wear a watch so as not to make a fashion mistake. You will also learn what watches are suitable for and what are the most fashionable watch models this season.
Which hand should I wear the watch on?
Of course, you have often wondered how to wear a watch correctly . Which hand the watch is worn on is not entirely defined, as it is an individual matter. Practice is best, however, and it follows that watches worn on the dominant hand are, unfortunately, at greater risk of damage. For most people, the dominant hand is the right, hence the common assumption that we wear watches on the left wrist . Wearing a watch on the left hand also has another advantage - mechanisms, such as a lanyard for adjusting the hands or other additional functions, are most often placed on the right side, so they are much more convenient to operate with the right hand. Thus, the answer to the question of which hand should wear a watch, is not unique! Choose the side that best suits you and wear your watch with confidence.
How to wear a women's watch?
Do you want to know how to wear women's watches so that they always match your look? We have some universal tips for you that will definitely come in handy. Casual style is dominated by the classic strap watch - it can be a leather or fabric strap. How to wear a watch on a strap ? For elegant jackets, blouses and shirts , opt for a watch with a muted strap, unless you go for statement accessories, then a strap with a silver dial and trendy embossed snakeskin red strap is a hit. Jewelry watches are most often chosen by women precisely because they usually feature a small dial and ornate strap. How to wear a chain watchresembling a bracelet? Best paired with a dress or other elegant style. Jewelry watches are not suitable for sporty style - for them, choose a fashion watch on a silicone strap or smart watche.
How to wear a men's watch?
Now it's time to explain a few rules regarding a familiar topic, or how to wear a men's watch . The main rule is not to forget that the watch is an accessory and should not dominate the whole style, but only emphasize its character. If, on the other hand, you like to stand out, choose a watch with a colored dial, a wide chain or a leather bracelet with an avant-garde clasp, such as a clasp. How to wear a watch on a bracelet so that it does not look kitsch? Here the principle is simple - this model will not be combined with t-shirts and shorts or stylishly sporty ones. For evening looks, choose a watch with a minimalistic dial, preferably on a classic leather strap in black or dark brown.
Watch and shirt - rugged elegance
Shirt and watch are two elements that we associate with elegant style. It is worth remembering a few rules with which you can avoid fashionable blunders. The most important of these is to never wear a watch on your shirt cuff . The watch should hide under the cuff and perhaps appear naturally, i.e. when performing various gestures. You don't need to show off the latest exclusive watch to look your best. The main thing here is prudence and modesty. If you choose a shirt with cufflinks, make sure your watch matches it. How to wear a watch with a suit ? In the case of the watch and shirt duo , it doesn't really matter what style the watch is if it wasn't a typically sporty model. In case of with a watch and a suit , the situation is a little more complicated, since we must match the style and color of the strap, as well as the watch face with a jacket. If you chose a brown tweed suit, choose a watch with a brown leather strap.
How to wear a pocket watch?

Fashion accessory in retro style
If it seems to you that pocket watches are a thing of the past, then you are mistaken. Modern fashion has a great feeling for what has already been, especially for elegant accessories, which are at the same time synonymous with sophistication and refined taste. If you appreciate classic or vintage style, this original accessory is a must have! How to wear a pocket watch ? Pocket watches are most often found in a duet with a matching chain and clip. With this solution, you can attach the watch to your vest, jacket or loop in your favorite trousers and hide the watch in your pocket. Basically this offer is for men. Women most often choose a miniature watch in the form of a pendant and attach it to a chain, after which they hang it around their neck. Both ways of wearing a pocket watch appropriate and consistent with the rules of good style.
Currently, you have thousands of models to choose from, so you are guaranteed to find the perfect watch! In our opinion, it will be difficult to stick to one model, so maybe you should choose two or three ... are you wondering how to combine a watch with other jewelry? Be sure to check if the watch and bracelet can be worn at the same time. Here you will find many valuable tips on how to style a watch with a bracelet.